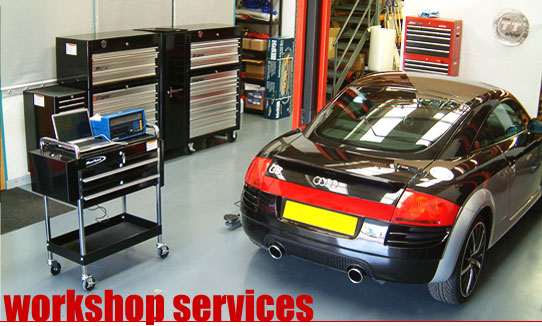 The TT Shop's specialist fitting centre, located centrally in Bedford, can offer fitting for every part we supply, from interior trim to turbo conversions!



Our performance fitting department is one of our busiest, offering bespoke performance and handling upgrades, and we even have work commissioned from Audi dealerships for their customers.



We can also offer Audi specification servicing, repair, and diagnostics, and our trained technicians probably see more Audi TTs through our workshop than the largest dealerships, and therefore have a level of knowledge of the car, that is second to none.



We also offer a painting a fitting service for all the Bodykit items that we supply, and the benefit of using specialists that have fitted many of these kits to Audi TTs, is invaluable.



Check the listings for guide prices for fitting, and call our specialists to book your appointment. We can also offer car collection and return for convenience – call for a quote.



The workshop is open from 9 – 5.30 on weekdays and 9 – 1pm on Saturdays.


Please click on the following links to learn more about our services:

©2001-2021 The TT Shop All Rights Reserved
The TT Shop is not related to or endorsed by Audi
Company Reg: 5146165 - VAT No. GB 214 5306 43
Terms & Conditions - Google+
Produced, Maintained & Hosted by
Design Concept & Logo by Graphico Design