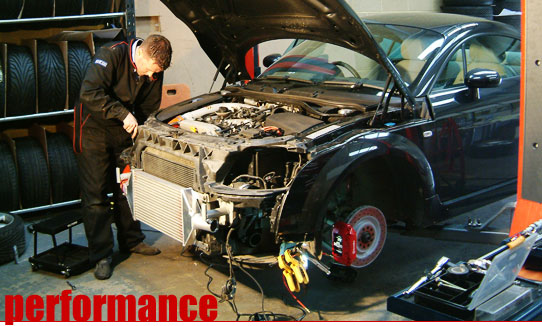 Exhausts


We fit more performance exhausts to Audi TT than anyone. Therefore we have the expert knowledge of what is right for your car. We can advise on looks, noise levels, performance gains, and we can make sure your exhaust is fitted and aligned correctly.



We offer a number of performance exhaust options, including
Single to double exit conversions, using pre-owned Audi TT exhausts
Single to double exit performance exhausts for front wheel drive cars
Performance Exhausts from manufacturers such as Milltek, Blueflame , Supersprint and Remus. We can also supply exhausts from many other specialist manufacturers to order.
Single, double and quad exit exhausts.
Sport Catalysts
De-cat Pipes
We hold large numbers of systems in stock and prices for fitting start from 1 ½ hours labour (£67.50+vat) and can be done while you wait. Contact us for more details, or to make a booking.


Induction Kits and Filters


Induction kits and filters work by increasing the flow of air to the car, and/or keeping the air cooler. Cooler air is more dense and therefore allows better combustion. We have experienced better throttle response and power gains into double figures with the best kits.



All of our kits can be fitted in house while you wait, and our most popular kits form an important part of our stage one packages (call for details)



Fitting of filters and induction kits start from £25 + vat



We can also offer filter and kit servicing and part of your regular service regime with us.


Brakes


When you have improved engine performance, it is important to make sure the brakes match the performance. We offer a huge range of options from OEM replacements to the amazing performance of the Porsche Cayenne 6 pot kit. Our range of workshop services for brakes includes the following :-
All round Brake check
Replacement Standard Pads and Discs
Replacement uprated Pads and Discs – including drilled and grooved discs
Caliper upgrades – from Brembo/Porsche, Tarox and others.
Rear Brake upgrades using OE calliper and larger discs
Track Day brake upgrades
Braided Hoses
Brake fluid changes and upgrades
We firmly believe on matching the brake option to you needs, so call us for a quote on your requirements.


Dump Valves and Boost Control Valves





The performance and life cycle of the standard dump valve is very limited and we can fit uprated units that will improved throttle response, especially at gear change. We use marine quality performance hose clips that will not rust and will grip your hoses firmly without damage. We also offer fitting of uprated N75 valves and Boost controllers. Prices start from £25 + vat.


Hoses




Silicon Hoses are one of the most popular performance mods, as they offer improved performance and great under bonnet looks also! We are one of the largest stockist of Samco hoses for all VAG cars, and our fitting service is popular as home installation can be tricky. We use marine quality performance hose clips that will not rust and will grip your hoses firmly without damage. Call for a quote on fitting for your car.


Performance Clutches


With our more powerful conversions we recommend a performance clutch. Call for details of the options for your car.


Intercoolers





Intercoolers are an important part of any turbo system and fitting a larger front mounted unit can lower temperatures enough to give good power gains, especially on warmer days. Fitting a front mounted intercooler is an involved task and our technicians ensure that this is done correctly and one of the key elements that some after market tuners fail to do is to replacing the front bumper correctly to ensure a factory fitted quality. Our workshop technicians know the body panels of the TT inside out (literally!) and as such, you are ensured that your car leaves us looking as good as it did when it came in (and often better!)
Contact us for a quote.


Stage 3/4/5/ conversions




We can offer larger power conversions using NOS, large turbos, water injection and High Lift Cams. All of thse conversions are bespoke taking into consideration your current level of tune, your needs and budget. Call to speak to one of our performance specialists.


Click here to return to the main workshop page.


©2001-2021 The TT Shop All Rights Reserved
The TT Shop is not related to or endorsed by Audi
Company Reg: 5146165 - VAT No. GB 214 5306 43
Terms & Conditions - Google+
Produced, Maintained & Hosted by
Design Concept & Logo by Graphico Design