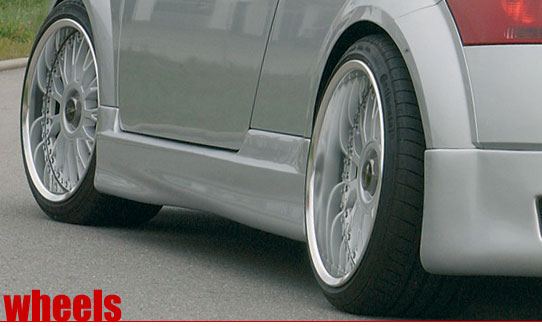 Wheels


This is one of the first steps to personalise your TT, changing the wheels really does make that much difference to make your car stand out from the crowd. We can supply Original Audi Wheels, replica wheels, or the most popular aftermarket wheels (OZ, BBS etc) If your not sure what wheels to go for, or are unhappy about fitting them yourself, as correct fitment is paramount, we can help. It is also extremely important to make sure you use the right bolts and locking wheel nuts, and have them tightened to the right torque setting. We are only a phone call away.



Click here to visit our wheel department


Wheel refurbishing


We also provide a wheel refurbishing service; from repairing minor scuffs to a total change of colour we can arrange this for you. Why not take the opportunity to have your wheels tidied up when your car is with us for other work?



Call 01234 853225 for a quote.


Wheel Spacers


Are you fitting different wheels on your TT? Will they fit correctly? Will you need wheel spacers? Do you prefer the look of fuller filled arches with you wheels in line? Are you having a big caliper brake upgrade an need the wheels to clear? Have you got the correct wheel bolts and locking bolts to fit the wheels securely and safely?



These are very important factors to consider, we will gladly help you to find the answers to all of your questions.



Not only that, we are able to fit them for you in our workshop, where we can make for certain that fitment is totally correct and to your particular needs. There are many factors that determine the correct application (Hub size, spigot adaptors, PCD, offset, brake calliper size, wheel bolt seat type, bolt length) and our technicians and sales guys also know the exact fitment for your car.



Visit our spacers department here and call us for a quote on fitting.


Wheel Alignment


We also offer wheel alignment services - click here for more details.


Click here to return to the main workshop page.

©2001-2023 The TT Shop All Rights Reserved
The TT Shop is not related to or endorsed by Audi
Company Reg: 5146165 - VAT No. GB 214 5306 43
Terms & Conditions - Google+
Produced, Maintained & Hosted by
Design Concept & Logo by Graphico Design