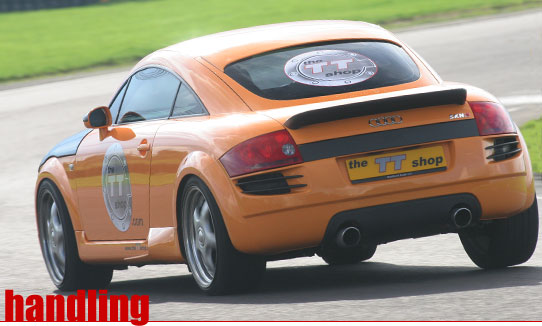 Performance Springs / Coilovers / Coilover set up / Lowering


Fitting Springs and Coilovers not only improves the handling of your TT, but also improves the looks considerably. We only use the best components and know what works well on the TT. We also know the most practical height settings and the best compression and rebound damping for standard everyday, fast road and track use. We can offer a height adjusting service after your kit is fitted, and set you suspension up for a forth coming track day.This also includes making sure your current suspension is set up correctly. If you think your coilovers could do with being that little bit lower (or higher in some cases) just give us a call.



Fitting from 2 hours labour (£100 + vat) We can also offer full laser 4 wheel drive alignment


Adjustable Tie Bars


When the Audi TT is lowered significantly; fitting Adjustable Tie Bars are essential! The alignment of the rear wheels on the stock tie bars is very limited, resulting in an incurrent wheel camber and increased tyre wear even after adjustment.



Adjustable Tie Bars get around this problem by increasing/decreasing in length, allowing you to fully adjust the camber of the wheels.



We offer a fitting service for the adjustable tie bars and this can be done while your suspension is being uprated or after, if you already have lowered suspension on your car. Fitting is charged at 1 hour labour (£50 + vat) and alignment is recommended shortly after installation (to allow the rear springs to settle).



For information on the Adjustable Tie Bars click here.


Anti Roll Bars


We can also fit new anti roll bars in our workshop; we fit a range of different anti roll bars depending on your requirements;
Replacing worn/corroded anti roll bars with new, genuine Audi bars
Up rating your existing roll bars with stiffer, stronger and more reliable anti roll bars
These are a great addition for those who like to go round corners that little bit faster.
Prices for fitting are as follows :-
Front ARB – 2 hours labour (£100 + vat)
Rear ARB – 1 hour labour (£50 + vat)
Alignment is required following installation.
For information on the Anti Roll Bars available for your car click here.
Please don't hesitate to give us a call if you require further details.


Bushes


We can replace worn bushes and replace them with genuine part or performance bushes all in our workshop while you wait.
Email, or call us for a quote on fitting


Wheel Alignment


We also offer wheel alignment services - click here for more details.


Click here to return to the main workshop page.

©2001-2021 The TT Shop All Rights Reserved
The TT Shop is not related to or endorsed by Audi
Company Reg: 5146165 - VAT No. GB 214 5306 43
Terms & Conditions - Google+
Produced, Maintained & Hosted by
Design Concept & Logo by Graphico Design